This article is part of the Admin Setup (Step-by-Step) guide.
---
Preparing your machine
With your cryptomat connected to the power and internet, press the 'INIT' button on its 'Congratulations' screen.
It will take a minute or two to generate a pairing certificate, after which it will land on the 'Pair with remote server' screen.


Pairing
Once all admin fields have been configured through the start-up guide, your chosen modules and wallets selected, and 'lamassu-server' is showing as 'Running' under the 'Maintenance > Server' panel, pair your machine by clicking the '+ Add Machine' button on the upper-right.
Give your machine a name that you'd recognize, click the 'Submit' button, then take a picture of the resulting QR code. Scan this at your machine after pressing the 'Pair' button on the display.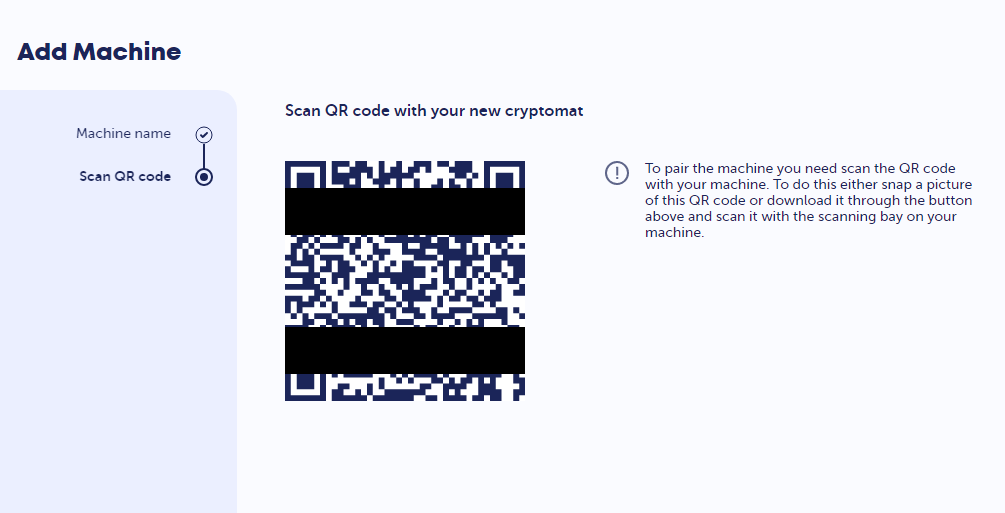 If the machine takes the pairing code but ends up on a screen that says 'Sorry, we're down', please see this article: 'Sorry, we're down' directly following pairing
Then come back to complete the following steps here.


Updating the machine software
Before further testing and deploying your machine, it may need an update to the latest software.
After pairing, check your machine's version and reach out to our support team to coordinate an update if needed.

---