If your machine ends up and stays on the 'Booting up...' screen, it may be due to a couple reasons which can be addressed below.
Encountered after switching 'Cash out' to 'on'
After enabling cash-out, the machine is expected to go to 'Booting up...' briefly while it detects the cash-out dispenser and applies new settings, then proceeding to the two-way Buy/Sell screen.
However, if it stays on 'Booting up...', then it could be due to either the cash-out settings or the currently supported fiat currencies. See notes below.
Cash-out settings
Please check your admin's 'Machine Settings > Cash Out' panel, and confirm that your listed denominations are valid denominations in your country's currency.
Example: There is no $1 CAD bill, so 1 would be an invalid denomination that would cause a 'Booting up' error, but 20 and 50 are valid Canadian dollar denominations.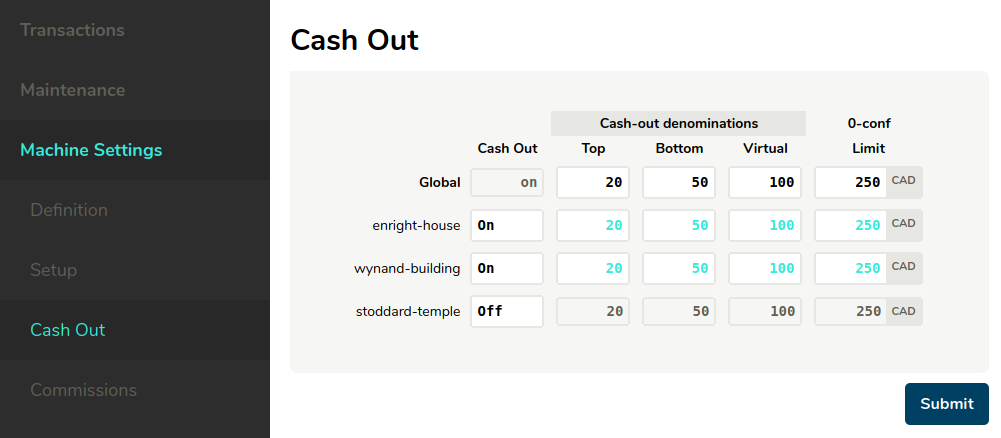 Dispenser support for your currency
To support each country's currency for cash-out, we add currency-specific information to a file on the machine.
Many currencies are already reflected in this file, however, it's possible that yours is not included in the software release you're currently running, or has yet to be added.
Please contact us both to ensure your machine software is up-to-date, as well as to confirm that your country's fiat currency is currently supported in the latest software. If it isn't, we'll add it.
Encountered after normal operation
If this screen presented in the course of normal operation, and you're running an older software release (Bullish Bunene v7.2 or below), this can be due to old files which need to be cleared on either the machine or server.
Our latest software releases include patches to automatically clear the old database entries and logs which may cause this behaviour.
Please use the steps in the Defiant Dingirma v7.4 upgrade article to check your versions and to upgrade to the latest release.
⚠️ Note: These may not be the only causes of a machine staying on the 'Booting up' screen, which could be the result of further incorrect admin settings. Please contact our support team if you continue to experience this and they'll guide you to the best solution.