If you own a Douro or Douro II please first follow the 'Santo Tirso physical setup' article before proceeding.


Updating the machine
Contact us at support@lamassu.is to ensure your machine's software is up-to-date.


Configuring Twilio
To support cash redemptions when transactions require 1-confirmation, create a Twilio account and phone number.
Then, in your admin under 'Third Party Services > Twilio', enter the credentials and save as reflected in the above article.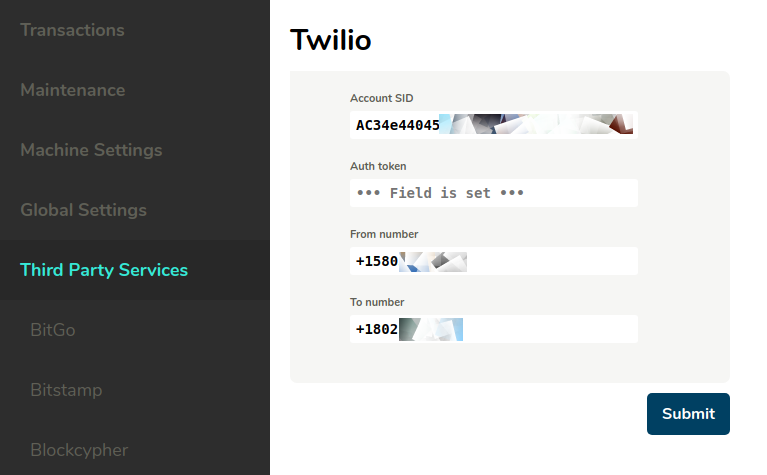 Configuring Blockcypher
If you are enabling Bitcoin (BTC) cash-out services, create a Blockcypher account.
Then, in your admin under 'Third Party Services > Blockcypher', enter the credentials and save as reflected in the above article.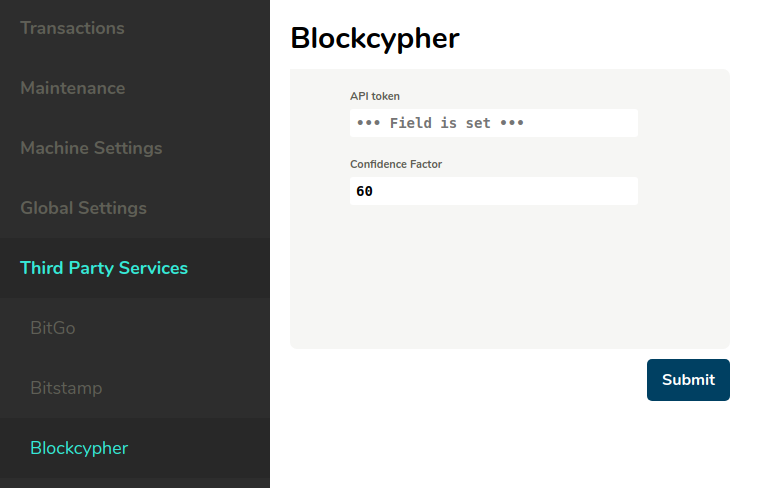 Pairing the machine
If you haven't already, the machine will need to be paired to your admin before the option to enable cash-out is present.


Configuring cash-out settings
In 'Machine Settings > Cash Out', set the Cash Out column to On for the desired machine.
Then, specify the denominations of the bills you placed into Top (Cassette #1) and Bottom (Cassette #2).
Note: The smaller denomination should be placed in the top cassette. If this is not how you distributed the bills when stocking the cassettes, please swap the cash from Cassette #1 with that of Cassette #2, so that the larger denomination is on the bottom.
Set a Virtual amount which is a multiple of one or both denominations (this acts as a convenient way to select greater amounts than your highest denomination.)
Set a 0-conf Limit, above which you'll require 1-confirmation before the cash can be redeemed.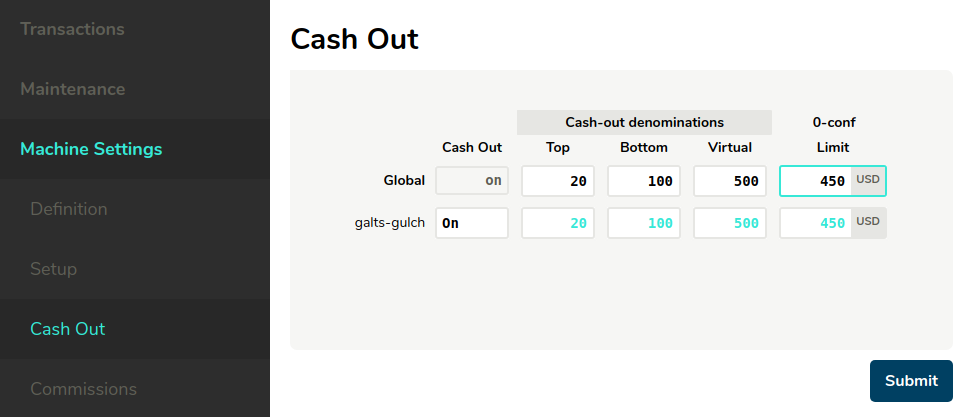 In 'Machine Settings > Commissions', set a cash-out commission percentage. This and other values on this panel can be set globally or on a per coin basis (e.g., you may need a greater Ether float and thus decide to incentivize cash-out ETH transactions by setting a lower, custom commission just for that coin; or a $15 fixed fee for cash-in makes sense on BTC but not Zcash).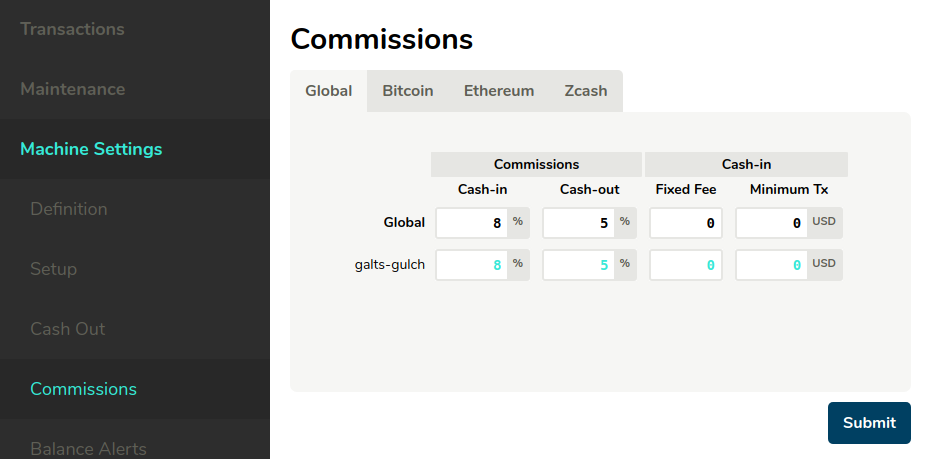 In 'Global Settings > Notifications' set the SMS gateway to Twilio.

In 'Maintenance > Machines', input the number of bills you have in each cassette and click 'Update Counts'.


Zero-conf settings
In 'Global Settings > Wallet Settings', go through each currency and ensure 'Zero Conf' is set as desired.
Blockcypher - Only available on BTC, analyzes confidence of incoming 0-conf deposits and pushes to 1-conf flow if confidence is too low.
Always 0-conf - Dispense once the user has sent their coins and the transaction is seen on the blockchain. Fee or unconfirmed change is not considered. The 0-conf limit can be set to have 1-confirmation required past a certain value.
Always 1-conf - Require phone number registration and await 1-confirmation for all transactions. However, in the case of ETH, the user is prompted to wait ~10-15 seconds at the machine as their deposit confirms and subsequently dispenses.
Suggestions:
BTC: Blockcypher
ETH: Always 1-conf
ZEC: Always 0-conf
BCH: Always 0-conf
DASH: Always 0-conf
LTC: Always 0-conf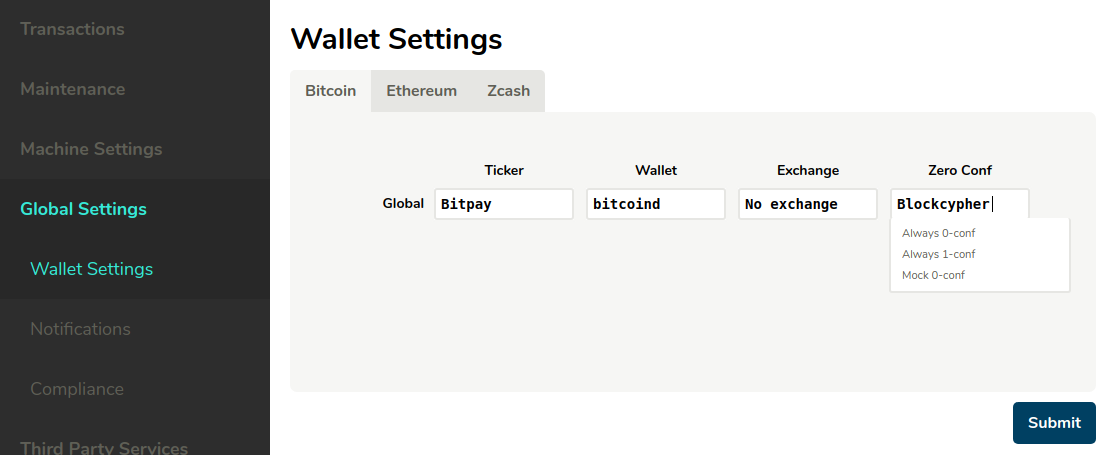 Testing
Place test transactions at the machine to confirm 0-conf and 1-conf dispenses are working across all coins.


Troubleshooting
If you experience issues in dispensing, please consult our Cash-Out Troubleshooting section.