For compliance-related notices or to otherwise discourage misuse of the machine, you may enable a 'Terms & Conditions' screen which users must accept before engaging in a transaction.


Customizing the screen
Within the 'Settings > Operator Info' panel, you'll find a section for Terms & Conditions.
On this panel, click the pencil icon to edit and then set the screen title, text content, and the text for the accept and cancel buttons.
The text content may be as long as needed since the machine-side UI will display long content in a paged format (see the machine-side screenshot below.)
Once all fields are configured to your needs, click the 'Save' button, and enable the 'Show on screen' toggle to 'Yes'.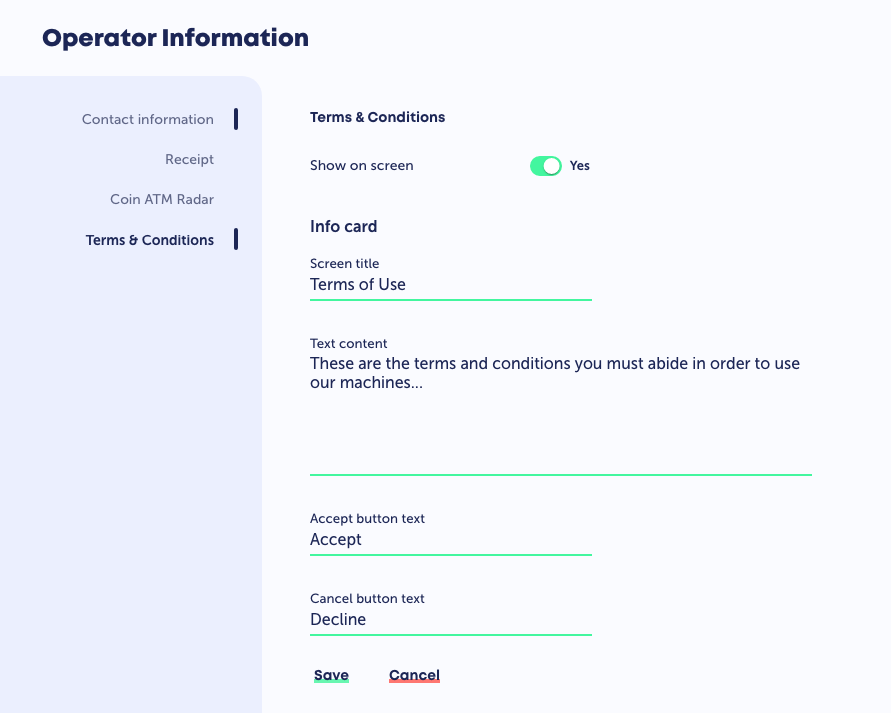 Display of Terms and Conditions
After a customer presses 'Buy' or 'Sell' at the machine, it will now first prompt them to accept your defined terms.
Pressing 'Accept' leads them to the next natural screen for their chosen flow, and pressing 'Cancel' returns them to the home screen.