For compliance-related notices or to otherwise discourage misuse of the machine, you may enable a Terms & Conditions screen which users must accept before engaging in a transaction.
This is included in the v7.1 release of our software stack. Please see this article on upgrading to the latest versions.
Customising the screen
After updating, within the 'Global Settings' section, you'll now see a section for 'Terms and Conditions'.
On this panel, you'll set the screen title, text content, and the text for the accept and cancel buttons.
Ensure that the text content is not too long that it would overrun the screen (see the machine-side screenshot below.) Otherwise, the buttons will not display on the machine for the user to accept and proceed to purchase.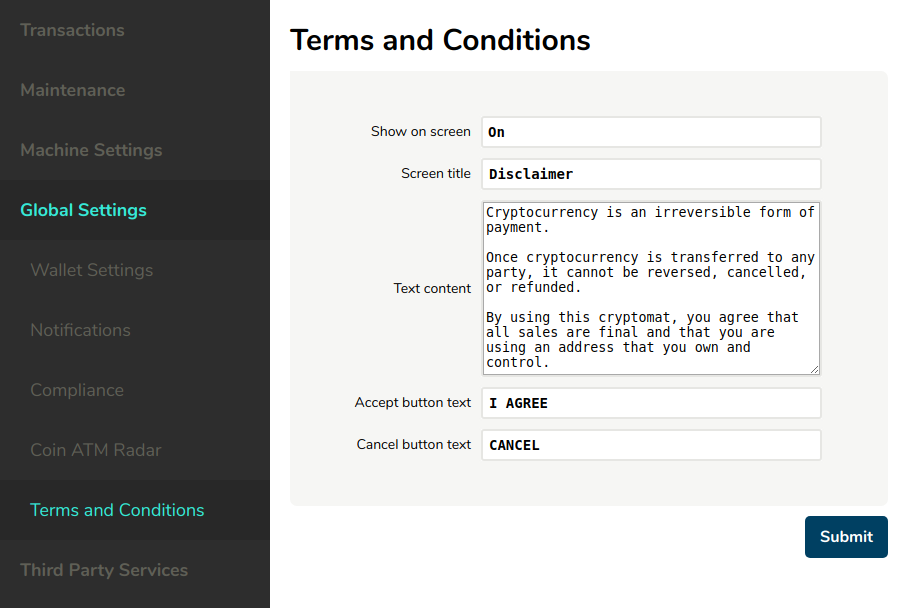 Display of Terms and Conditions
After a customer presses 'Buy' or 'Sell' at the machine, it will now first prompt them to accept your defined terms.
Pressing accept leads them to the next natural screen for their chosen flow, and pressing cancel returns them to the home screen.
If you're in doubt whether your text content may be too long for the machine display, it's advisable to test at the machine after enabling.