This article is part of the Admin Setup (Step-by-Step) guide.
---

After creating the droplet, note its IP Address shown on the following screen:

Linux & macOS 
If you are using either Linux or macOS, open a new terminal window on your computer. This is found on a Mac in Applications > Utilities > Terminal.
Then, run the following (replacing 1.2.3.4 with the IP address of your droplet):
ssh root@1.2.3.4
You'll be prompted to enter the password you protected your SSH key with when creating it.
When you see the prompt 'root@your-droplet-name:~#', you've logged into your server: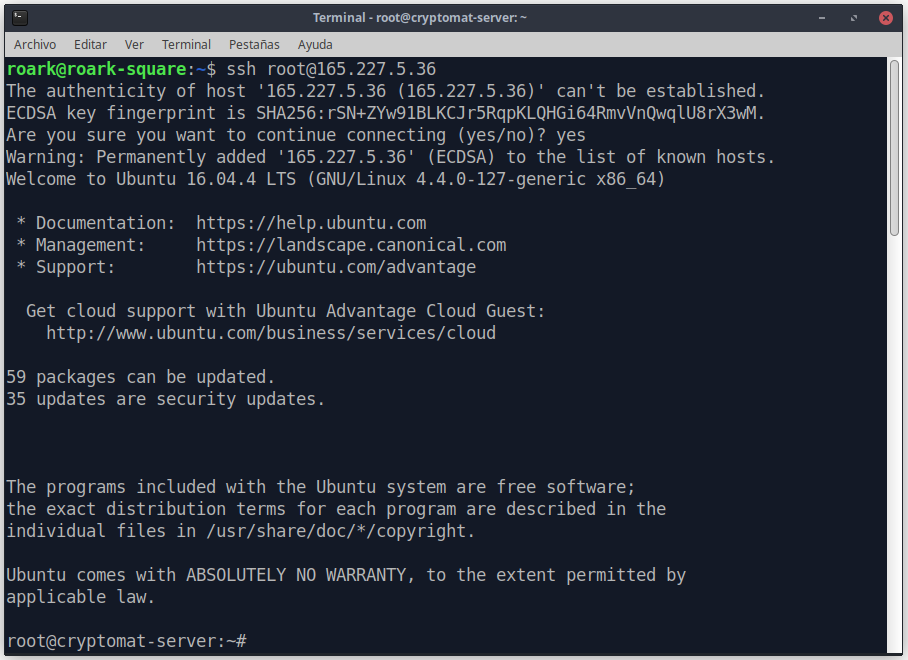 Windows
Open PuTTY from Start > All Programs (not PuTTYgen as used previously), then follow the steps below to log into your new or existing server.
Step 1: paste the server's IP address under Host Name, click on Data and enter 'root' for the username.
Step 2: expand SSH, click on all, and browse for your server's private ssh key.
(Instructions on generating this private key can be found in Step 2 of the Admin Setup Guide)
Step 3: click on Session, create a name for your server under Saved Sessions, click save, then click open.
Step 4: If it's your first time connecting to the droplet, you'll get a security alert. Click Yes on this window, then enter the password you created earlier with your private key, then press Enter on your keyboard. You should now be succesfully logged into your server.
---