Your machine can connect to an exchange so that bitcoin is automatically purchased at market rates with each bill that's inserted. In this way the price volatility of bitcoin is mitigated.
Kraken trading is supported for Bitcoin, Zcash, Ethereum, Bitcoin Cash, Dash, and Litecoin on all fiat currencies.
Flow with trading
When linked to an exchange, the flow is: user inserts bills, coins are sent from the machine's hot wallet to the user, the server then triggers a purchase on the exchange account. The module will purchase the same amount of coins that is dispensed to the user.
For security purposes, the admin does not initiate a withdrawal of coins from your trading account to your hot wallet. You should periodically top up your machine's wallet by sending it the coins which are purchased on Kraken.
For more info, please see: Wallets, Exchange Linkage, and Volatility
Signup
First, sign up for a Kraken account: https://www.kraken.com/en-us/signup
Then, verify your account in order to deposit and withdraw funds: https://www.kraken.com/u/verify
Once verified, deposit fiat funds to your account balance:
If your machine uses EUR, deposit funds to Kraken's EUR balance.
If the machine uses USD, deposit to Kraken's USD balance.
For all other machine currencies, deposit funds on EUR.
Create an API key
Under settings, and API, create a new key: https://www.kraken.com/u/settings/api
Assign it the following permissions: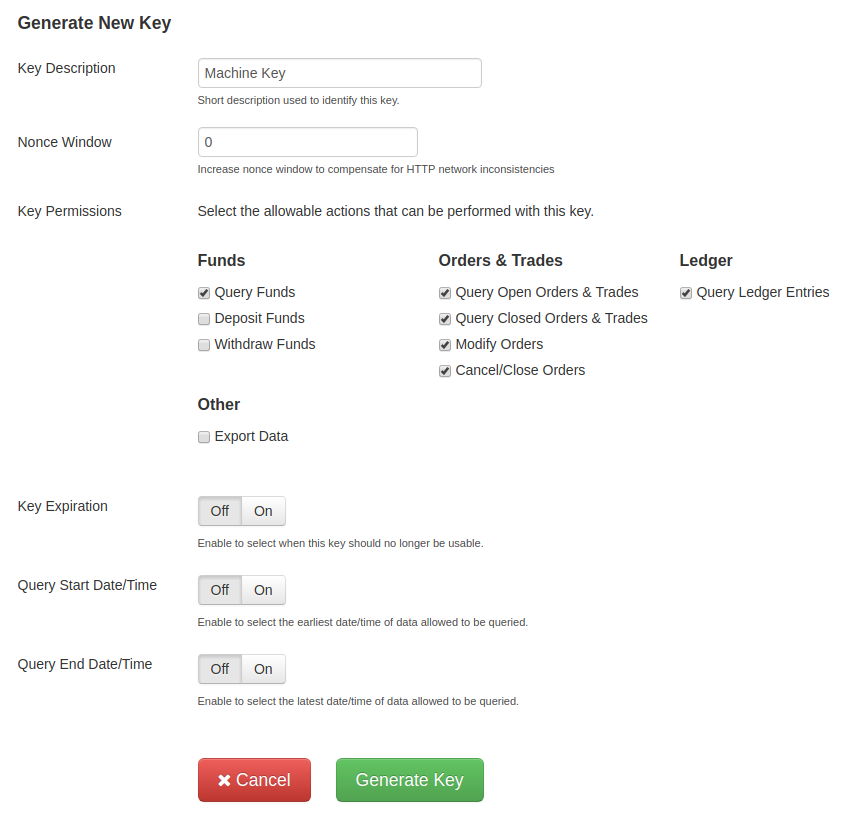 Copy down the API Key and Private Key shown.

Configuring in your admin
Open the 'Third Party Services > Kraken' panel in your Lamassu admin. Input the API Key and Private Key credentials, clicking Submit: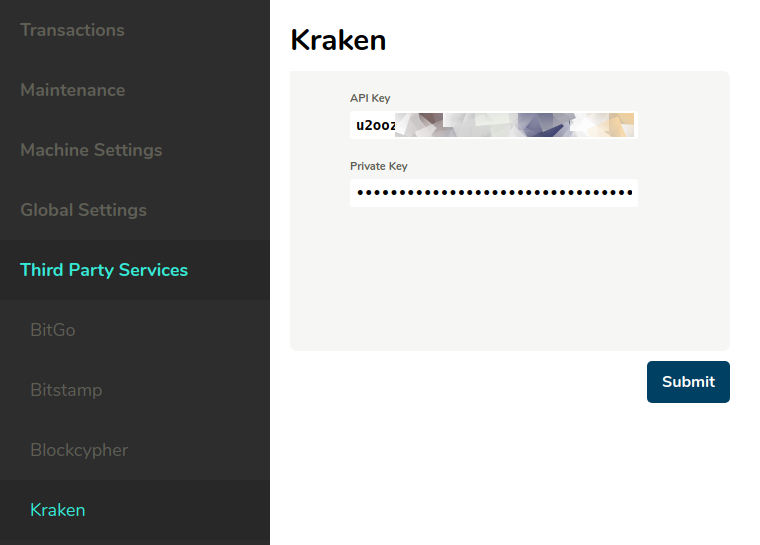 Then navigate to the 'Global Settings > Wallet Settings' panel. Select Kraken from the Exchange and Ticker drop-down list under the tab for each currency that you'd like to enable trading for:

Testing
Test trades by placing purchases at the machine and ensure fiat is converted into the relevant cryptocurrency in your Kraken balances.
Purchases will need to be above Kraken's trade minimums in order to be executed.