With the release of Bullish Bunene (v7.2), you may enable API reporting of your cryptomat's online status and rates for its Coin ATM Radar listing.
Use this article to activate reporting and update your cryptomat's listing.
Enable API reporting
Following your upgrade to Bullish Bunene, navigate to the 'Global Settings > Coin ATM Radar' section of your admin, and choose 'On' for both 'Active' and 'Show Rates', then click Submit.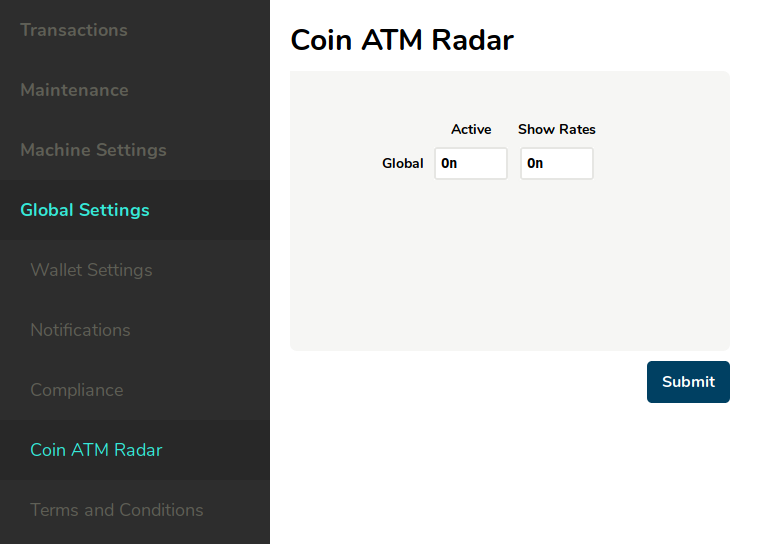 It will now begin relaying your machine's online status and rates to Coin ATM Radar. Next, you will need to inform them of your machine's External ID by associating it with your listing.


Obtain External IDs
⚠️ Important: You must be running Bullish Bunene v7.2 or later. See our article to upgrade to v7.2 first.
Within your server, run the full command below (select all and copy/paste) to download the new lamassu-coinatmradar script:
curl -sS https://raw.githubusercontent.com/naconner/lamascripts/master/patch/coinatmradar/update.sh | bash
When complete, you'll see 'Patch applied.' Then, run this command to obtain your cryptomat's External ID:
lamassu-coinatmradar
It will output the name of your cryptomat(s) along with a 64-character string. This string is what Coin ATM Radar refers to as the 'External ID' of your cryptomat.

Linking IDs with Coin ATM Radar
⚠️ Important: Please wait 30 minutes after enabling API reporting in your admin before following the next steps to add the External ID to your Coin ATM Radar listing. Their database needs this time to update with the info your admin reports to it, and if trying to add the External ID before then, you'll see an error on their site that the ID is not available. If you receive this, please give it 30 minutes and try again.
When creating a
new listing
or editing your
existing one
, provide the 64-character string assigned to the particular cryptomat, as below: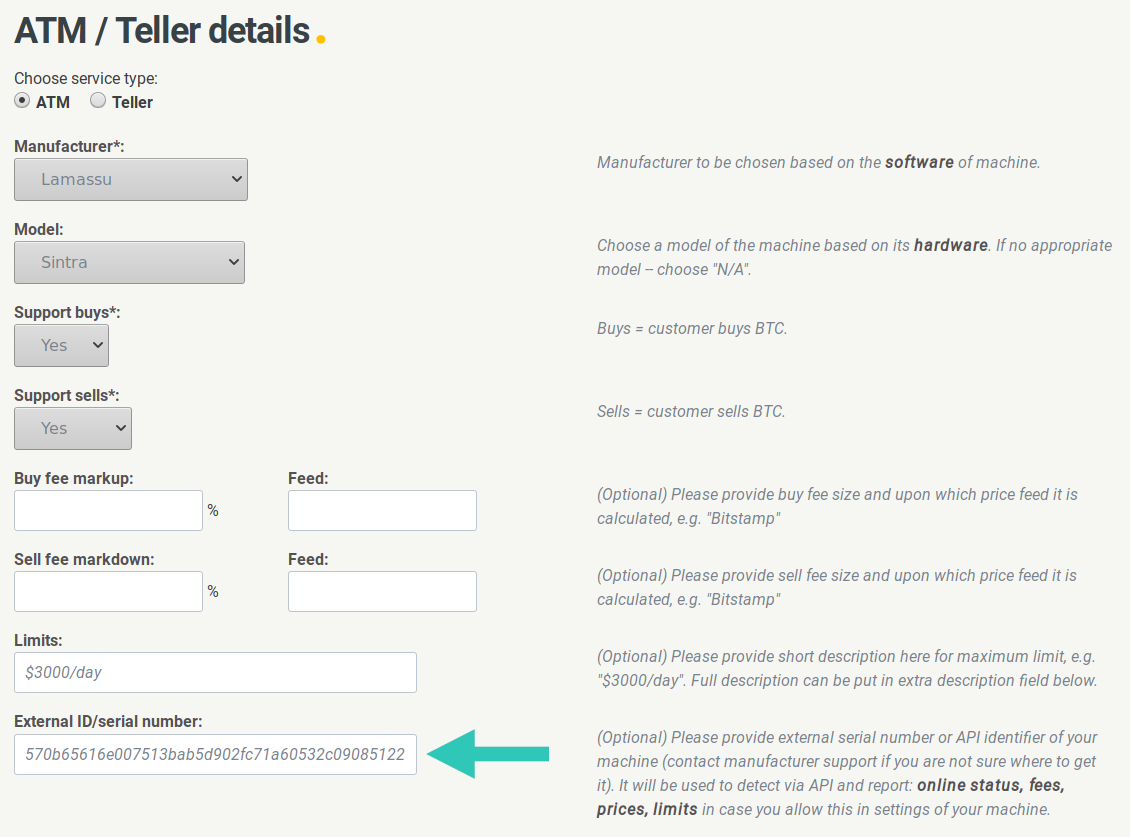 Soon thereafter, Coin ATM Radar ought to reflect your machine's online status and current pricing.
Please
contact our support
with questions on the above. In upcoming releases, we look forward to enabling additional API reporting fields.