Like the prior generation software, the next-gen includes options to run either bitcoind or BitGo  for BTC transactions at your machine.
However, the next-gen now adds a convenient way to check your current and pending bitcoind balance and obtain a deposit address. This means you'll no longer need to access the server to perform these functions.
Furthermore, the next-gen runs native wallets for Zcash, Ethereum, Bitcoin Cash, Dash, and Litecoin as well as for Bitcoin (bitcoind):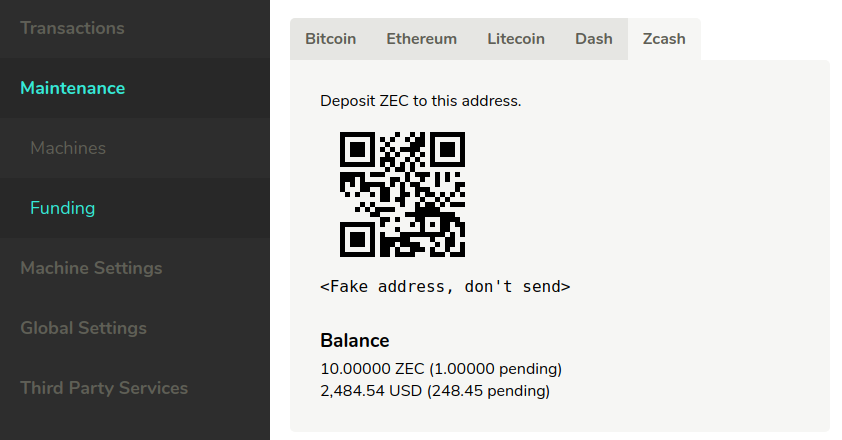 Using native wallet nodes has several benefits:
Greater decentralization and uptime, relying on fewer outside parties for you to conduct sales.
Faster transactions at the machines, as a third-party service does not need to be contacted by your server.
Better security: you're in sole possession of your wallet keys.
Setup
The initial setup of the node wallets' blockchains likely occured during droplet creation with the lamassu-coins command.
If you did not set up their blockchains then, perhaps relying on BitGo for just BTC until now, you may set them up by running:
lamassu-coins
Only install the blockchains you actually intend on using and that your current droplet is capable of handling. Running and synchronizing these chains is an intensive process. If the CPU/RAM configuration of your droplet cannot handle syncing 5 blockchains and running their wallet daemons, you will experience instability on both the server and machine.
Notes on appropriate droplet settings are located in the admin setup article.
Then, enable the appropriate coins within the 'Crypto Currencies' field of the 'Machine Settings / Setup' panel of the admin and click Submit.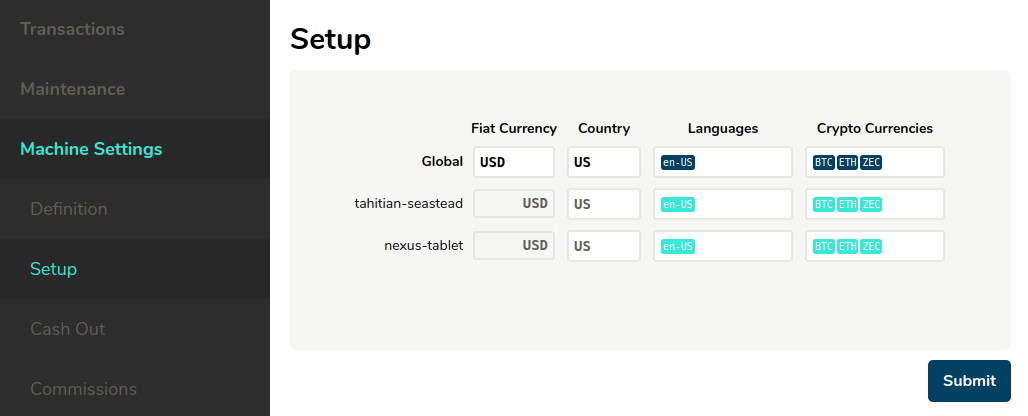 Blockchain synchronization
Syncing the blockchains will take around 48 hours. During this time the admin may be slow to respond as resources are dedicated to downloading and processing the blockchains. You also will not be able to conduct transactions until the chains are synced.
To check the current state of synchronization, you may check the output of the following commands to the block height of the currency listed at the linked block explorer:
Bitcoin - current block height
bitcoin-cli -conf=/mnt/blockchains/bitcoin/bitcoin.conf getblockcount
Ethereum - best block
geth attach --datadir /mnt/blockchains/ethereum/ ipc:/mnt/blockchains/ethereum/geth.ipc
eth.syncing
If result is 'false', then the Ethereum blockchain is synced. Quit geth by running 'exit'.
Zcash - current blocks count
zcash-cli -conf=/mnt/blockchains/zcash/zcash.conf getblockcount
Dash - current blocks count
dash-cli -conf=/mnt/blockchains/dash/dash.conf getblockcount
Litecoin - current block count
litecoin-cli -conf=/mnt/blockchains/litecoin/litecoin.conf getblockcount
Funding
Navigate to the 'Maintenance / Funding' section of your admin, then select the coin's wallet you'd like to fund.
Before sending funds, please ensure your Wallet Settings panel has the appropriate wallet client selected for live transactions (i.e., not 'mock wallet') and that your blockchains have synced: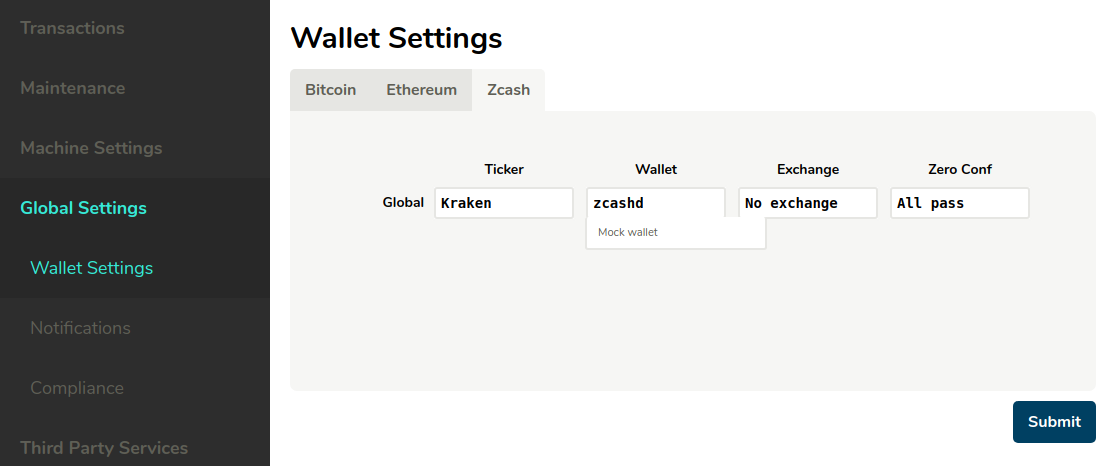 Deposit only small amounts until you've successfully conducted test transactions. Deposits will require one confirmation before being available to dispense.
Backing up your wallets
Ethereum
Your Ethereum seed can be backed up by writting down the output of this command and storing it in a secure place:
lamassu-mnemonic
Caution: You must copy down the words in the exact order as they're presented, or your Ethereum funds will be unrecoverable.
Bitcoin, Zcash, Dash, Litecoin
Your Bitcoin, Zcash, Dash, and Litecoin wallets are automatically backed up from the volume storage (where the wallet and configuration files reside) to your main droplet. Thus, two copies exist in case one gets corrupted.
An automated process is in the works to securely download your wallet files. However, for now you'll need to back up these wallet files manually if you decide to move to a new droplet.
Caution: wallet.dat files contain your private keys are unencrypted. Only store copies of the wallet files on encrypted media.
To manually back up, you may use SCP (Linux / Mac) or WinSCP (Windows) to download the appropriate wallet.dat files from your server, storing them securely. Here's an example on Linux / Mac:
scp root@1.2.3.4:/root/backups/blockchains/zcash/wallet.dat ~/zcash-wallet.dat
Please contact us at support@lamassu.is with any questions on the above.