Your server will use native wallet nodes for each coin you install, meaning your coins and keys are held on your server instead of with a third-party.
Using native wallet nodes has several benefits:
Greater decentralization and uptime, relying on fewer outside parties for you to conduct sales.
Faster transactions at the machines, as a third-party service does not need to be contacted by your server.
Better security: you're in sole possession of your wallet keys.
Since your coins are stored solely on your server, it's important that you regularly back up your wallets (see the last section of this article).


Installation
The initial setup of the node wallets' blockchains likely occurred during droplet creation with the lamassu-coins command.
If you did not set up their blockchains then, you may set them up by running the following in your server's terminal:
lamassu-coins
Use the arrow keys and space bar to select coins, then hit Enter to install.
Only install the blockchains you actually intend on using and that your current droplet is capable of handling. Running and synchronizing these chains is an intensive process. If the CPU/RAM configuration of your droplet cannot handle syncing 5 blockchains and running their wallets, you will experience instability on both the server and machine.
Notes on appropriate droplet settings are located in the admin setup article.
Blockchain synchronization
Syncing the blockchains will take between 24 – 48 hours. During this time, you may deposit funds to the wallets' addresses, however they will not be seen or available for sale until the blockchains have fully synchronized.
To check the current state of synchronization, you may check the output of the commands found here:
Checking Wallet Synchronization
Setup Panel
After installing, enable the appropriate coins within the 'Crypto Currencies' field of the 'Machine Settings / Setup' panel of the admin and click Submit: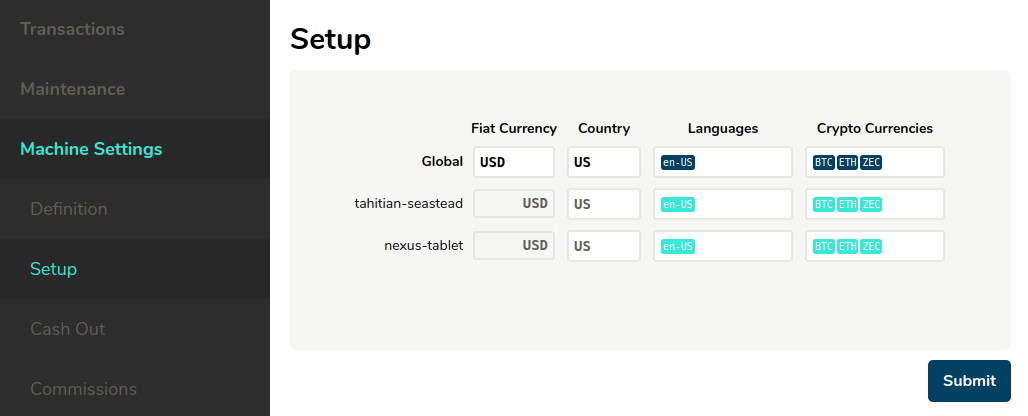 Wallet Settings Panel
After clicking Submit above, the Wallet Settings panel will turn red indicating that you'll need to provide additional information.
For each coin you've added, select a Ticker (price source) and the Wallet (zcashd, Infura, etc.), clicking Submit on each page.

CAUTION: the 'Mock' ticker and wallet options are for testing purposes only, not to be used in production. Using these in the field instead of actual ticker and wallet options will lead to loss of coins, cash, or both.



Funding
Navigate to the 'Maintenance / Funding' section of your admin, then select the coin's wallet you'd like to fund.
Before sending funds, please ensure your Wallet Settings panel has the appropriate wallet client selected for live transactions and that your blockchains have synced.
Deposit only small amounts until you've successfully conducted test transactions. Deposits will require one confirmation before being available to dispense.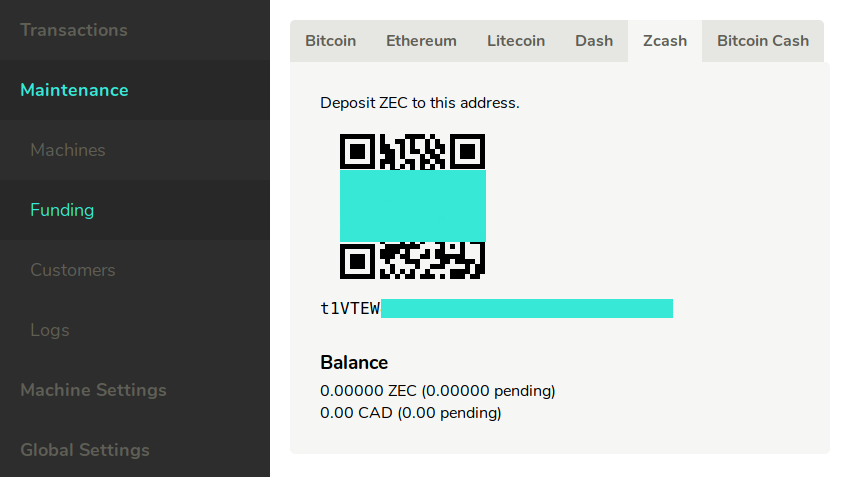 Backing up your wallets
Ensuring that you can recover the funds held on your wallets is very important. Please follow our guide on Wallet Backups.