Starting with our v7.1 release, Infura has been added as a wallet option for Ethereum, and is recommended over Geth for its much decreased overhead and greater reliability.
Infura is a free, third-party API for broadcasting and looking up transactions on the Ethereum blockchain. When used as a wallet option for ETH, you retain full control and ownership of your wallet keys and funds.
If you are already running Geth as a wallet, after switching to Infura with this article, you can thereafter stop Geth from running and clear disk space. We'll have an article for 'Stopping Geth and reclaiming space' shortly.


Signing up for Infura
Visit infura.io/register and sign up with a name, email, and password.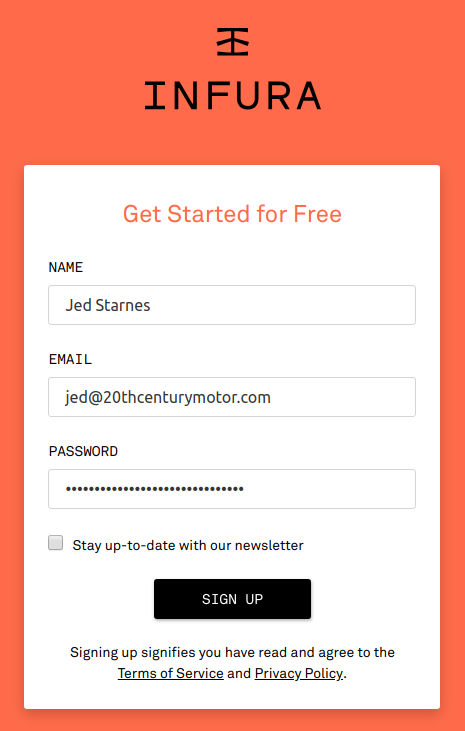 Confirm your email address if prompted to do so.


Obtaining credentials
Click 'Create New Project' within the Infura portal, naming it 'Lamassu Machine' or similar. You'll need only one for each admin you have.
Afterwards you'll be given a set of three credentials. Copy them by clicking the Clipboard icon (rather than highlighting them).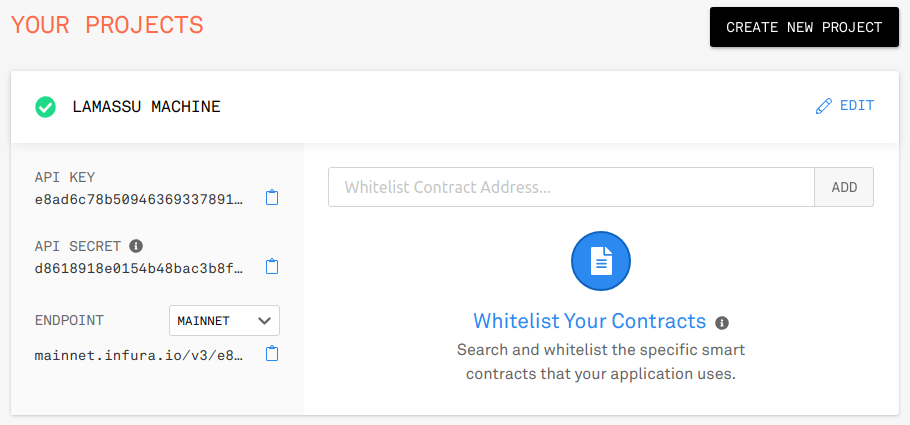 Paste the credentials one-by-one to the 'Third Party > Infura' panel of your admin, and click Submit.
NOTE: Make sure your endpoint link contains the string "https://" at the beginning, this is required for a valid connection with Infura.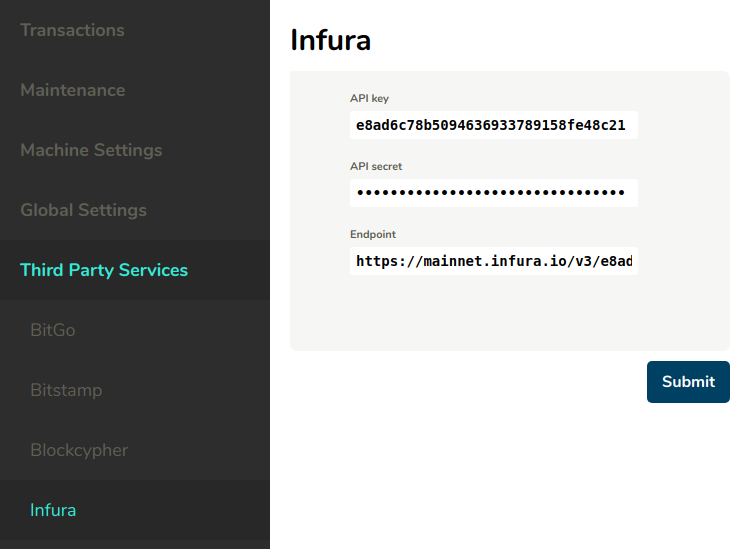 Within the 'Global Settings > Wallet Settings', under the Ethereum tab, choose Infura for the wallet, and click Submit.

Check that your existing Ethereum balance is reflected within the 'Maintenance > Funding' panel. If so, you're ready to go.


Backing up your wallet
As always, you should back up your admin's wallets in order to recover funds. The process is the same with Infura as it is with Geth, and both wallet options will use the same seed and hold the same funds.


Known issue
If you are offering cash-out on your machine, unlike with Geth, Infura currently will not detect a transaction as soon as it is broadcast, rather, it will be seen once it receives one confirmation (~15 seconds in most cases).
This means that the machine will not know to advance to the 'Deposit received, waiting for a confirmation' screen. This may confuse some customers when their deposit isn't immediately detected.
When it does receive one confirmation, the machine will advance to the 'Dispensing' screen and dispense the cash.
Infura will be adding the ability to detect broadcast but unconfirmed transactions, and we're working on means to mitigate customer confusion with the present behaviour in our v7.3 release. If you'd prefer the old behaviour, you may continue using Geth until these additional changes are in place.