If your Douro + Santo Tirso ends up on the 'Booting up' screen during operation, it could be due to files which need to be cleared on either the tablet or server.
Please follow the three means below to resolve.
⚠️ Note: This may not be the only cause of a machine staying on the 'Booting up' screen, which could be the result of incorrect admin settings. Please contact our support team if you're experiencing this and they'll guide you to the best solution.
Update to Bullish Bunene (v7.2)
Our latest release includes a patch that improves dispenser startup reliability.
Use the steps in our v7.2 upgrade article to apply this patch and run the latest release.
Prune server database entries
Certain tables in your server's database may have grown exceedingly large, causing high resource usage and instability.
Use the step in the article on addressing high resource usage to prune these entries.
Our upcoming Crafty Chnemu (v7.3) release will prune these automatically.
Clear tablet logs
Extraneous log entries on the tablet's file system may be preventing the startup of the dispenser. You may clear these manually with the process below.
You'll need a USB keyboard and the tablet's root password, provided by our support team.
1. At the Douro, plug the USB keyboard into the port at the top of the tablet inside the door.
2. Press Ctrl+Alt+T to open a terminal. Type the following, hitting Enter:
sudo su
3. Type the root password as provided by our support team (it will remain blank when typing), then hit Enter.
4. Run the following commands one at a time. Spacing, asterisks, and slashes must be exact. Running an incorrectly formatted command may have unintended consequences.
cd /var/lib/lamassu-machine/
rm machine.log
rm log/*
rm tx-db/*
restart lamassu-machine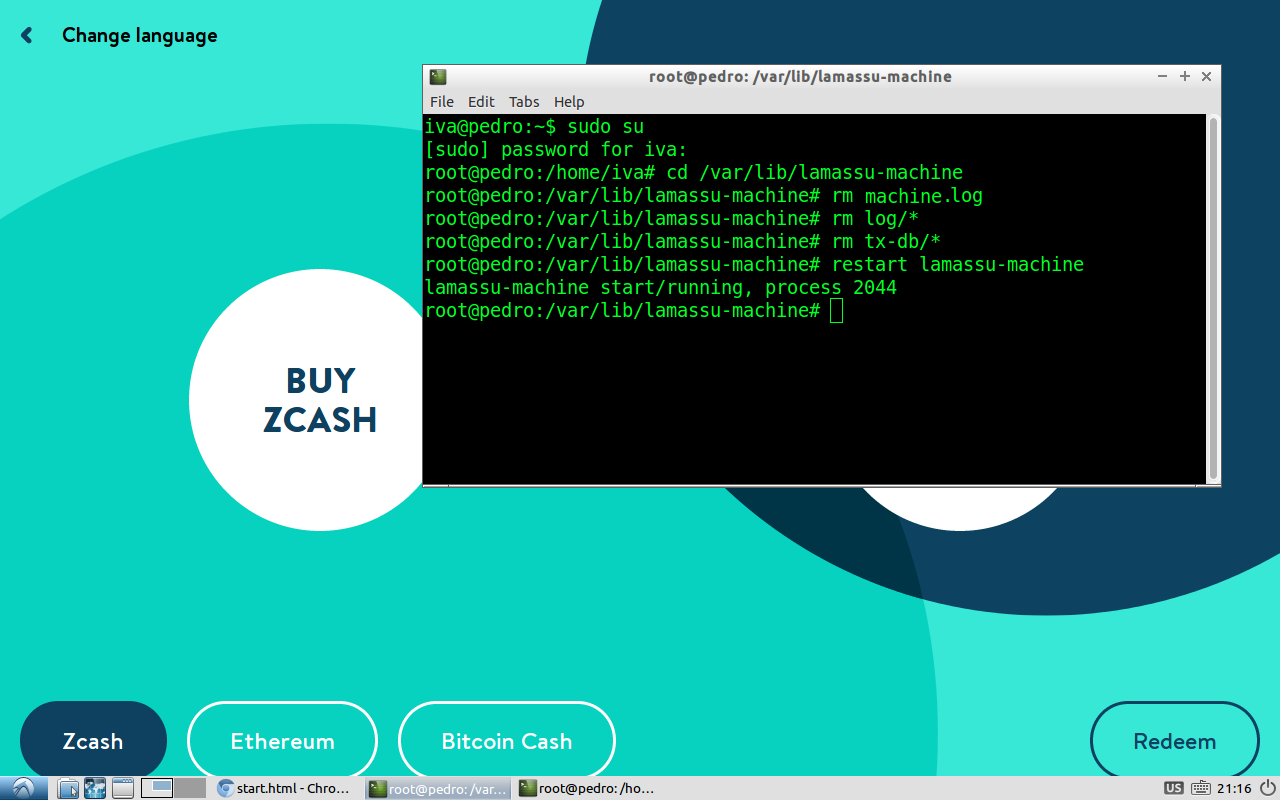 5. Close the terminal window and remove the keyboard. Your machine should now go past 'Booting up' and show the Buy / Sell screen.
In Crafty Chnemu (v7.3), these logs will be cleared periodically.