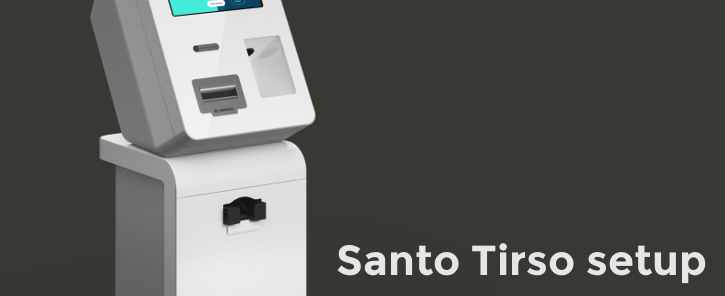 Setup of the Santo Tirso involves mounting it to your existing Trofa, updating your machine version, and configuring your server. Let's get started.
There are two keys for the exterior door lock (red), two for the interior vault (blue), and two for the cash cartridges. There is also a small card with a hologram that provides a code for the locks used. Please make sure you have located both sets of keys and the key card, and store them is a safe place. If you misplace your keys and key card you will not be able to access the inner machine and vault.
Installation
Mounting the Bitcoin machine and moving the Santo Tirso is a team lift effort. Please enlist assistance.
The PDF linked below illustrates the process of prepping the stand after shipment and anchoring into the floor. If not bolting/anchoring into the floor, follow only steps 01 and 02.
Santo Tirso mounting instructions (PDF)
Depending on which Bitcoin Machine version you have, there will be differences in how the Santo Tirso's data cable enters the Bitcoin Machine. Your Santo Tirso was also configured to use USB or RS232 based on your existing machine.
Follow the instructions below for your machine version, then, once the data and Ethernet cables have been connected to the machine, mount the Bitcoin Machine to the Santo Tirso with the five M12 bolts which originally came with the Douro / Trofa. The mounting plate will not be needed.
Access the Bitcoin Machine's mounting holes using the directions here:
Bitcoin Machine mounting instructions (PDF)
CAUTION: Take great care when removing the bill validator from the Douro's vault, as the cabling is delicate. Carefully disconnect the validator cable at the white molex junction at the first opportunity.
Trofa
When using the Trofa, remove the coupler from the bottom of the machine using a small Philips screwdriver. It will not be needed when used with the Santo Tirso: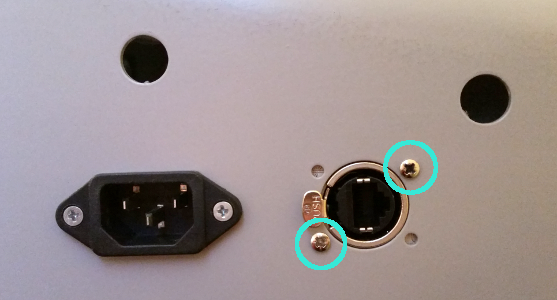 Thread the Santo Tirso's USB cable and Ethernet cable through the now-open hole and connect the USB cable to the port on the hub seen here: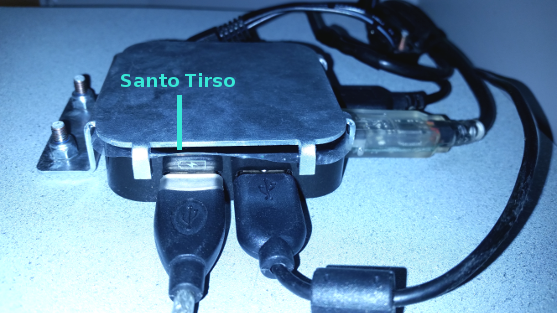 If using an Ethernet-to-USB adapter in conjunction with the Santo Tirso, you'll need to use a second, non-powered USB hub to expand the available ports. Connect it to the port to the right of the Santo Tirso-labeled port. Connect the existing black USB cable (camera) and Ethernet-to-USB adapter to this second hub.
Loading cash & cartridge length
Both cash cartridges should be configured to the bill length of the denominations used.
With the cartridge opened, you'll find four Philips-head screws at the bottom which fixes the spacer in place. Loosen this and adjust to the denomination's length. Click on the chart below to see the exact positions for certain currencies.
Software setup
Continue on to our article 'Enabling cash-out' for the next steps in configuring.