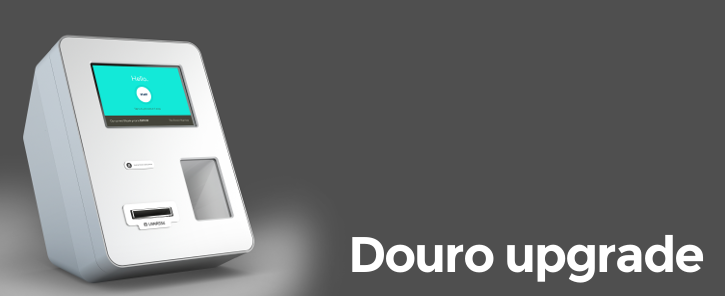 We've learned a lot since the introduction of our very first Bitcoin Machine. Our first design, the Trofa, used a Nexus 7 tablet, a consumer tablet that powered the totality of the machine's operation.
The Nexus, while initially capable, proved over time to be subject to limitations, including its battery life, memory management, stability, screen uptime and durability.
Douro features
We introduced the Douro in the summer of 2014 as a well-deserved improvement to our original Bitcoin Machine. The greatest difference was in the device which powered the machine. 
The Aaeon 10" tablet is a commercial grade unit with an Intel processor. It is faster and more powerful than the Nexus. It has a stronger, more impact resistant touch screen, and built in Ethernet/USB ports. This allows us to use less cabling which means it's less prone to cable failure. Also, because the Aaeon has a built in Ethernet port, Ethernet is functional out of the box. The Aaeon is rated for 50,0000 light hours (almost 6 years). 
We are pleased to offer an upgrade kit for those operators wishing to take advantage of these improvements.
Trofa-to-Douro Upgrade Kit
The kit includes:
Aaeon 10" industrial tablet computer
New door
Upgraded power supply
Cabling
Antenna for Wi-Fi
Price: $2000 USD. The kit comes with instructions on replacing the components of your existing machine.
If you have one of the first 15 machines delivered, you will need an additional scanning cone and lamp ($150). An easy way to check that is to see if there's an LED light connected to the cone or not. If there is, you don't need a new cone.
Ordering
For more information or to order, please contact support@lamassu.is.